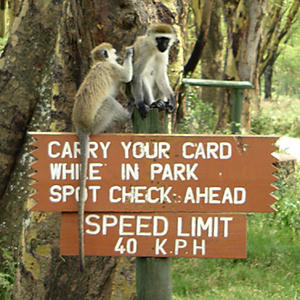 Monkeys and buffalo are known to frequent the camp. As we were eating lunch in camp, a vervet monkey (like those pictured at right) climbed inside our truck. "Monkey in the truck!" someone shouted. Douglas grabbed a machete and charged it. The monkey scampered out through a window and hid underneath the front wheels. Then it dashed off to a tree to join other monkeys. It was a successful thief: It had carried off a sealed plastic packet of biscuits. Up in the tree, the monkeys opened the packet and divided the biscuits among them. For the rest of the meal, we were taunted by monkeys in the treetops, eating our snacks.
After lunch, we got in the truck and drove to Lake Naivasha. On the way, we stopped in the town of Nakuru to shop, use the post office, etc. The street was packed with souvenir vendors who are aggressive about hawking their wares to tourists. We stopped later at a curio shop/carving factory that sold all the popular souvenirs: wooden animals, bowls, tapestries. I bought a can of Coke.
Our camp near Lake Naivasha is nice. It has hot showers, electric lights, and, very importantly, a bar called the Laughter Pub.