Saturday, March 11, 2000, 7:25 p.m.
We're back at the Wintergreen cabin. Now is a good time to jot down some numbers: According to Marty's GPS, we averaged 2.5 miles per hour over 48.5 miles. The maximum speed on the sleds was 17.3 miles per hour. (I'm not sure if these are accurate figures, but below is a map showing our route over three days. We started in Moose Lake, at the bottom of this map, camped in Washington Island, criss-crossed the Canadian border, and took a side trip Friday to Basswood Falls.)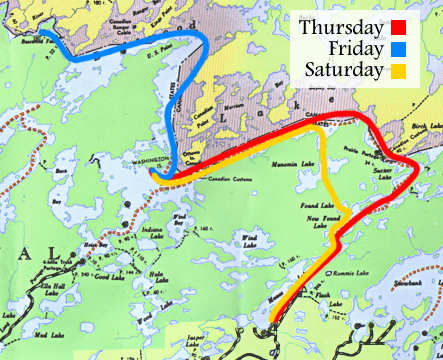 As for Saturday...
I woke in the thick sleeping bag, stuffed with clothes, toasty and clamy and totally unwilling to get out of bed. But the daylight and the voices outside persuaded me to put on my three layers of winter gear and climb out of the tent. A breakfast of some hot sugary grain cereal and we packed up the dogsleds and left the shore.
Our first stop along the lake was the oldest tree in Minnesota. It's a 1200-year-old cedar tree. Shorter than I'd expected, but still a twisted mass of thick branches, half dead. It took three people to stretch their arms around the trunk.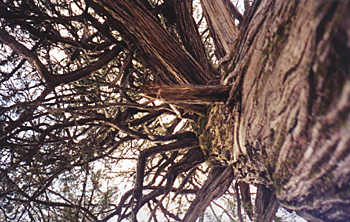 Next, a short portage over a bog. The dogs pulled, we pushed, and somehow we dodged a lot of thin ice. Lunch at the end of the bog was more snack foods — marshmallows in a marsh. Wild cranberries provided additional munchies.
After a short pond, we hit the longest and most exhausting portage — about 3/4 mile. This was through a strange landscape of blown-down trees, like a scene from the foot of a volcano. This was the result of a storm on July 4, 1999. Crews have sawed a path through the fallen trees wide enough for the sleds. The portaging reminds me how similar dogsledding is to canoeing.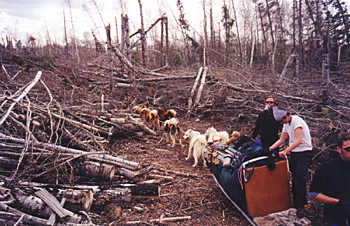 As we moved down the final stretch of Moose Lake, it began to flurry. This is the only precip we've had since the rain Wednesday. Loading the dogs and the sleds onto the trailer was easier than one might think. This despite the teams of Outward Bound dogs that were loaded into their trailer in the same lot at the same time. Trouble with the Wintergreen pickup truck required us to hook the dog trailer to the Penn State van. Happily, they had the same size hitch.
Back at the cabin, we posed for some group photos with Bernard and dined on hamburgers. Also this evening... A false call outside to look at the northern lights. It was just a grey glow. Perhaps a cloud?... Another trip to the sauna and the lake, this time to roll around on the ice... Scott is sitting down with ice on his knee, strained slightly from the day's portaging.