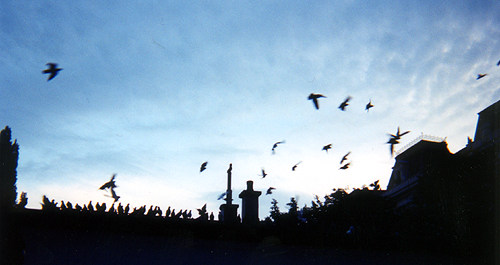 Pigeons on Vienna rooftops


May 17, 2001
Vienna, Austria



Our flights in were smooth - a delay in London, but free British Airways socks at least made our feet comfortable. Then there were free papers on the way from London to Vienna, leading with a bizarre story about Britain's deputy prime minister punching a protestor who hit him with an egg. (London Telegraph headline: "Prescott swings from the left.")

We rode an airport shuttle to the Bellevue Hotel, tipping the driver with Shillings we picked up at an airport money exchange. This hotel is old and stately. Our room is on the fourth floor, accessed via a tiny elevator ("lift") where the door doesn't travel with the elevator, leaving an exposed moving wall on one side.

Dave and I spent several hours today walking through Vienna. We saw old cathedrals, stone streets, outdoor cafes and our first glimpse of the blue Danube river. The Volksgarten was especially nice, a sample of the cleanliness and immaculate care that seems characteristic of Vienna. Lacking German, it's been difficult to learn much about the city. Our hotel clerk spoke English, but Dave and I were at a disadvantage when ordering food and shopping.

Evening traffic in Vienna
Vienna's buildings and parks are pleasant to walk through. Streetcars ("trams") run on tracks throughout the city. There are special lanes for bikes. The streets are narrow and haphazard, but well signed for walkers. Curiously, this is a quiet city. No radios, no car horns, no street musicians. The loudest sound was a man standing in front of a small crowd reading poetry through a loudspeaker.
So far, the most delicious surprise of the trip has been "Milky Way," a chocolate spread we bought at the Billa, a grocery store. It's delicious on a baguette.
< About the trip | Europe on wheels | Next day >
Daryl's Home Page