May 18, 2001
Cejkovice, Czech Republic



Guten Morgan. German isn't hard to pick up here and there. Czech is less familiar. How do you pronounce "Dobré jitro"? Menus and signs here are almost all in German, and, when in English, can be oddly phrased. ("See our dessert selection. Get seduced!")

We had breakfast at the hotel in Vienna, where we shared a table with two Russian businessmen. We swapped a few words in labored English.

Our driver was late picking us up at the hotel because of a miscommunication about which hotel we were in. Because we booked the trip so late, we were in a different hotel than usual for cyclists on this trip. Dave and I are the only two people starting this self-guided tour today. When we weren't in the usual place, the taxi driver contacted Martin, one of the owners of Romantic Czech Tours, which operates the tour. He called his contact in the United States, waking her up at 2 a.m. west coast time. Meanwhile, I was trying to figure out how to use an Austrian payphone to call the Czech Republic. I routed my call through the toll-free AT&T America number, using my calling card. The Czech-speaking person who answered the phone at Romantic Tours gave me Martin's cell number. I called him. He already knew where we were.

Jaroslav, our driver, arrived at the hotel lobby at 11:30, greeting me with a smile and a hearty handshake. He spoke no English, but that was okay. He drove us about 45 minutes to the outskirts of Vienna, a few kilometers from where we were supposed to start - taking us over the first big hill to make up for the delay, he explained. He took our bikes - 21-speed "Leader Fox" road bikes - off the roof of his Ford taxi, gave us water bottles, a tool kit, bungee cords and bags. We were off.

This was rural Austria. Tiny villages nestle among green farmland - exactly what you might see if you closed your eyes and someone said "rural Austria." The biking was good, with safe roads, few cars, and excellent maps. Dave's steady pace reminds me that I'm pretty out of shape.

Each village has its own church, some homes, perhaps a post office, and strings of small, window-less structures buried half into the ground. Most looked unoccupied, but all had power lines running to them. What were these buildings? We stopped for lunch near a row of them near Walterskirchen. We ate tuna sandwiches and drank water, not knowing what surprise awaited us.

As we ate, a van pulled up on the street next to us. The driver spoke English.

"Are you having wine?" he asked. His name was Chris, a Canadian who lives in Vienna working for the Nuclear Regulatory Commission. He grew up in Denmark, where he learned English, French and German in addition to Dutch. His friend owns the wine cellar next to where we were eating lunch. Mystery solved: They were wine cellars. His buddy would give us a taste for free, he said. We followed him to the door of a small building. Inside, it wasn't a small building at all. Steps led down into a cavernous cellar, filled with wooden casks.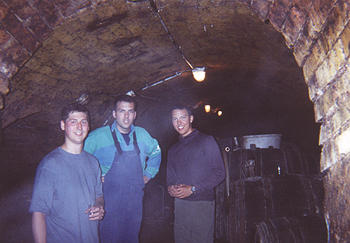 Me, Gottfried and David in the wine cellar
Many of the vineyard farmers own these cellars for making wine, mostly for their family and neighbors. The grapes are harvested in September. Often, they're used to make something like champagne, but last year's crop was sweeter than usual, and makes good wine.
Chris's friend connected a hose to a tap on the barrel and ran it to an electric pump and some kind of filter. His younger assistant, Gottfried, connected the hose from the filter to a steel trough capable of filling eight green glass bottles at the same time. Ingeniously, this machine used siphon power that kept the top of the bottles in line with the top of the trough, so they didn't overflow. Chris and his friend corked the bottles with a hand press or capped them with a mallet. Electric lights in this dark chamber revealed a dark fungus on the ceiling - a sign of a healthy cellar, Chris said. The air was also surprisingly fresh.
Dave, Chris and I each had a small glass of wine. It was sweet and seemed like good wine as far as I could tell.
Chris translated some quick conversation, and Gottfried tried out some English. "Bill Clinton was here," he said. Not here in some obscure wine cellar, but in Austria yesterday. We saw his pictures on the front of the papers this morning. I'm surprised at how much notice the rest of the world pays to the United States. If an ex-president of Austria visited Washington, what American would take notice?
Satisfied with our taste of culture, Dave and I rode on. We left Austria and entered the Czech Republic. Almost immediately, the nature of the land changed. Roads were rougher. Towns were more scattered, colorful, disheveled. And it began to rain buckets. During the heaviest downpour, Dave and I moved to the side of the road and took shelter under some dense, low plants. Some kind of stinging plant brushed against my leg, and it continued to feel sore for the rest of the day. We were soaked. Light rain continued for the rest of the day.
We biked through some swampy areas, with night herons, ducks and one large bird I took for a stork. We also saw a pheasant in a field. Few land creatures, although we did spy a rather large rabbit. People fished in some of the lakes.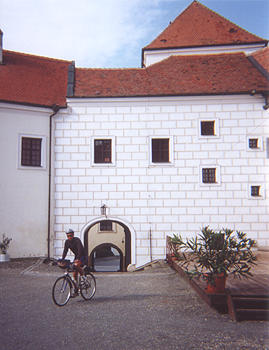 Dave at our hotel in Cejkovice
Tired and wet, we made the final downhill ride to Cejkovice around 5:30. Our hotel here is called the Hotel Zámek, or "Chateau." It looks like it used to be a fort. Indeed, the brochure reveals it to be a structure built around a fort first inhabited by knights in the 13th century. Bar none, the oldest building I've ever slept in.
We ate in the pleasant and tidy hotel restaurant, choosing chicken and fish dishes with a Czech beer called Pilsner-Urquell. Our waiter spoke no English, but gave us an English menu.
Tomorrow night, we stay in the same place after biking a 65 km loop through the Czech countryside. Tonight, our clothes are drying, Dave is asleep, night is falling.


< Previous day | Europe on wheels | Next day >
Daryl's Home Page