May 24, 2001
Esztergom, Hungary



Perched at a lazy bend in the Danube River, Esztergom was home to Celt settlers as early as the 3rd century B.C. - 2300 years ago. We saw some of the walls they built today. There's a great museum up on the rock that shows some of the on-sight archeological work.

We were able to see much of tourist-friendly Esztergom because the bike ride today was quick and flat. On the way out of Komárno, I stopped at a modern supermarket and spent the rest of my Korunas on fun snacks. The route continued following the Danube river downstream to Sturovo, where we borded a ferry from Slovakia to Hungary. It was a quick, pleasant ride in a small passenger boat. Esztergom was directly on the other side.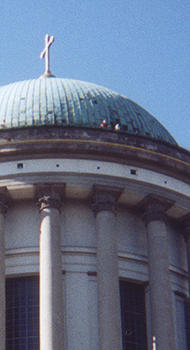 Tourists on the Bazilika dome
We checked into our hotel, a decent place near the river and the center of town. Our room has a small balcony, where I would beat Dave in chess for the first time so far. We went out for lunch just after checking in. After a quick survey of the town, we stopped in a pizzeria. I was hungary, and ate a "vitamin salad" and a good-sized Hawaiian pizza. Dave had soup and lasagna. It was a short stairclimb to the museum and the Bazilika, a 20th-century cathedral on the top of a rock near the river.
An elderly woman who spoke only Hungarian led Dave and I through the museum, explaining as best as she could how the site looked before it was destroyed by cannonballs, rebuilt, and destroyed again. Much of the history is preserved in a structure from the 1400s, which has been reconstructed as a museum. The whole castle-church area was key in the long-running battle between the Hungarians and the Ottomans (from Turkey), because it was in a critical location for defending Budapest. At one point, the museum woman asked where we were from. "America? England?" she asked. We said America. "Bush?" she asked. Dave gave the thumbs up, I the thumbs down. "Clinton?" Now I gave the thumbs up, Dave the thumbs down. The woman laughed.
A few steps away is the Bazilika. The highlight of the day was a long spiral stairclimb to the top of the dome, which, incredibly, is open to tourists.
Several times today we bumped into an English-speaking Swiss couple who are also on a long-distance bike trip.
At the hotel, we played chess and watched some awful television. On now is an Alec Baldwin movied dubbed in German. The only English-language channel is CNBC.
For tomorrow, we expect a beautiful bike ride, ending with a taxi ride to the Budapest rail station and a train ride to Vienna.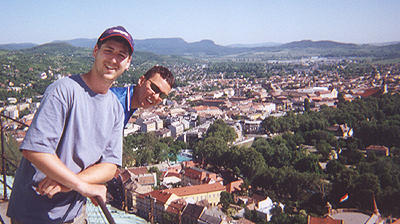 View from the top of the Bazilika