May 25, 2001
Vienna, Austria



We left Esztergom fairly early and biked straight through to Szentendre. The ride took us along the Danube river in a lovely valley of small towns. As our directions advised, it was beautiful but with heavy traffic.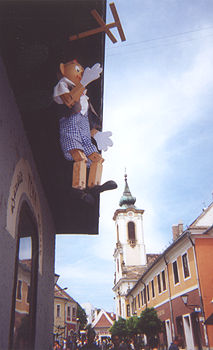 A marionette for sale in Szedentre
At noon in Szentendre, we locked our bikes near the spot where the taxi was supposed to meet us at 3. We spent the next hours seeing the town. Szentendre is an area that draws tourists from Budapest to its fun shops. Dave bought a nice chessboard. I bought some trinkets for my family and mulled buying a dulcimer (7500 Forint/$23) or a Soviet military officer's pocketwatch (5000 Forint/$15). I decided on neither.
We ate lunch, once again, in an outdoor cafe. Perfect weather for the 6th day in a row. After a quick game on Dave's new chessboard, we met our driver and loaded up for the ride to Budapest's Kelety train station. The 25 km ride took more than an hour, thanks to lousy traffic (and many close calls). In the station, we stumbled around with our backpacks until we managed to get tickets and get seated on the proper train car (the Orient Express to Paris, 2nd class).
For the next 3 hours, the window of the train car became a screen playing back our bike trip on rewind. The ride is 273 km to Wesbahnhof station in Vienna (Wein). We took a taxi to our hotel, the Harmonie. Oops, they'd lost our reservation in a computer crash, but had already made arrangements to get us to another hotel for free. We ended up on the 6th floor of the spiffy Holiday Inn.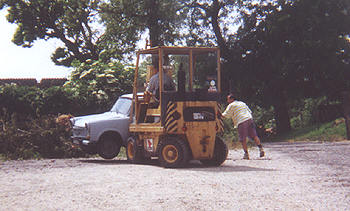 Men with car trouble in Szedentre
I've been impressed with how many languages a typically hotel clerk can speak in Vienna. When we walk into a hotel (or restaurant or taxi), we're usually greeted in three languages. When respond "hello", the rest of the conversation continues smoothly in English. (This isn't the case everywhere, just in Vienna.) I'm envious of these language skills, especially after so many frustrating years trying to get a grip on Spanish.
Tomorrow, we shuttle to the airport and board a plane to London, then another to the United States. The flight is surely the worst part of this trip. It means hours on end of sitting in place in a stuffy plane. But it also means return to the United States, home.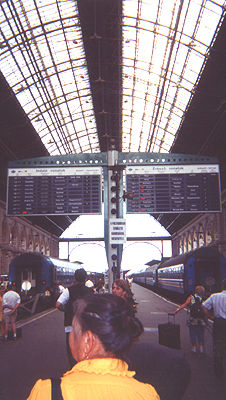 Kelety station in Budapest