One night in Nairobi
Sat. 9 Oct. 2004 - Masai Mara to Nairobi, Kenya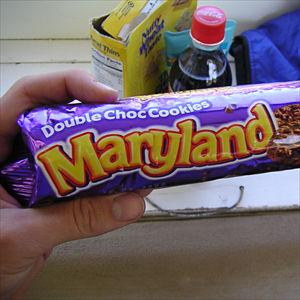 We drove a long way today, making two rest stops between our camp in the Mara and our hotel in Nairobi. We bought snacks at a gas station; I found it interesting that you can buy cookies called "Maryland" in Kenya, but you can't buy them back in Maryland.
Our hotel, the Panafric, is bright, safe, modern, and clean, but it is difficult to get simple things done there. Simple hotel-type tasks — getting coffee with breakfast, ordering a gin and tonic at the bar, buying stamps, making a long distance phone call — require asking four or five different people, most of whom have no idea how to help you. (The problem is not a language barrier; everyone speaks English.)
Saturday night, we all went to The Carnivore, a well-known tourist restaurant near the Nairobi airport. The attraction is the meat: Servers roam the room with skewers of roasted meats and carving them up at the tables onto hot cast-iron plates. Unusual meats we sampled that night included crocodile (tastes like fish), ostrich (tastes like roast beef) and gazelle meatballs (tastes like beef meatballs). Much beer and wine was also consumed, which helped the whole experience go down a little easier. At night, the place becomes a tacky dance club. We drank and danced a bit until we were tired, then split up into taxis for the ride back to the hotel. I ended up in a cab that was in such bad shape that the driver had to back up and make three attempts to get the car to climb the hotel driveway.